NDIS Support and Counselling
National Disability Insurance Scheme
I offer therapeutic evidence-based services for Australians with an NDIS plan who have funding for therapeutic supports. I am a certified ABA Therapist committed to using only evidence-based approaches to teaching new skills, building relationships, and promoting independence for people of all ages with autism and related developmental delays.
For conditions other than those considered to be psychosocial, counselling services may be accessed in order to help improve daily living skills. As an example, a person diagnosed with autism spectrum disorder may have psychology services included in their plan to help them to develop social skills, or behavioural management techniques.
Clinical counselling services are funded by the NDIS if your NDIS plan includes the support category "Improved Daily Living Skills", which is covered under the Capacity Building section of an NDIS plan.
You must have this in order to receive psychology services, and psychology services must also be aligned with your goals set out in your plan.
What's Applied Behaviour Analysis
Applied Behaviour Analysis (ABA) is a type of therapy that focuses on improving specific behaviours, such as social skills, communication, reading, and academics as well as adaptive learning skills, such as fine motor dexterity, hygiene, grooming, domestic capabilities, punctuality, and job competence. ABA is effective for children and adults with psychological disorders in a variety of settings, including schools, workplaces, homes, and clinics. It has also been shown that consistent ABA can significantly improve behaviours and skills and decrease the need for special services.
Before building a program, I sit down with you and your child to discuss our program and your goals. This meeting helps us better understand your family's true needs. From there, I work with you to build a personalised plan that best meets those needs. Through early intervention, and this personalised approach, we can help your child develop the skills necessary to reach their fullest potential.
Assessment (e.g. living skills, behaviour, environment, social abilities, )

Assisting children with special needs and challenging behaviours (and their families) with transitions (to school, to adulthood)

Help managing intellectual, physical, sensory, cognitive and psychosocial (mental health) disabilities

Assisting families to explore stressors and develop innovative coping strategies

Assisting you and your family to make the most of your social and emotional strengths

Building the skills and capacity through coaching towards chosen goal; eg work

Increasing independence

and equipping the client with the skills to make decisions and increase control in his/her life

Learn new tools and strategies for coping with life's challenges

Providing confidential counselling and support around issues such as mental health, self-esteem and identity, stress management, coping strategies and relationship issues

Reduce feelings of anxiety and depression

Find relief from anger and negative feelings

Help building confidence and feel more independent

Support through life's challenges
Complete range of Therapies available for adults as follows:
The NDIS provides funding and support for persons diagnosed with disabilities. I am pleased to offer a complete range of treatment modalities that I have been trained to deliver, to ensure you get the best care, and most workable strategies to suit your individual needs. Your individual therapy may draw on various techniques including:
CBT (Cognitive Behavioural Therapy) specific for Clients with disabilities and mental health disorders
Interpersonal Therapy (ITP)
Mindfulness based cognitive therapy (MBCT)
ACT (Acceptance & Commitment Therapy)
DBT (Dialectical Behaviour Therapy)
Solution Focused Therapy
Mindfulness
Visualisation
Progressive muscle relaxation
Controlled breathing
Motivational Interviewing
Career counselling (psychometric testing)
Mediation services
What if I physically can't make it to the office?
Whilst getting out there is a good goal to work towards, I acknowledge that it isn't easy for everyone. I can provide home visit counselling for all of our NDIS clients who find themselves unable to make it to one of our offices.
The following services can all be a part of your NDIS Plan to reach your goals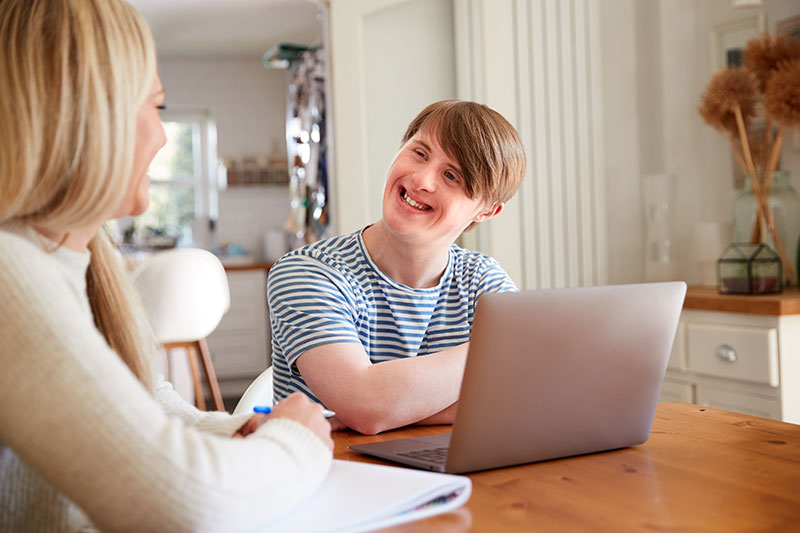 Individual Counselling
Anxiety and depression

Emotional wellbeing

Social isolation

Stress and overwhelm

Addictions and substance misuse

Grief and bereavement

Self-esteem, confidence and assertiveness issues

Anger Management

Sleep issues due to anxiety and depression

Pain and fatigue

Domestic violence
Family Counselling
(Parenting skills set building)
I can help you and your family to recognise underlying issues, identify areas for change, and to use your strengths to restore or repair your

I can assist parents and work with all family members in a supportive and non-judgmental way to build real solutions informed by strengths, wisdom and knowledge of family
Relationship Counselling to help:
Improve the way you communicate

Teach you both problem-solving
Providing information and education about relationships, friendships and sexuality

Allowing you both to be heard and understood

Mediation to resolve conflict and learn new ways of interacting to achieve a more harmonious relationship
If you would like to access these therapy services, you can speak with your NDIS Planner, your Support Coordinator, or contact me on 08 82981454 or 0414 755 229.
NDIS Counselling Sessions across Adelaide
Home visit counselling to all areas of Adelaide and nearby regional areas
Individual service considerations for every participant
No waiting lists, start immediately
Locations :
Mile End – 75 Henley Beach Road, Mile End, SA 5031
Kingston Park – 19 Pine Avenue, Kingston Park, SA 5049
Video Counselling – via Skype or Zoom available
Home visits
Hours:
Therapy sessions take place between 8.30am – 5.30pm Monday to Friday, however evening and weekend appointments are available by special request.
Therapy sessions take anywhere from 60 – 90 minutes depending on your needs.
To find out more or to discuss how I can help please call 0414 755 229